The Twitter saga continues 🤪 And this week around the Gatsby islands
It's Monday, and we still don't know if Prune your Follows will work with the new Twitter API free plan or the new Twitter API paid plan 🤪 Get your pruning in today if you've postponed it!
Gatsby v5.6.0 is out, and Head API supports context providers from wrapRootElement.
Have you seen the React Documentary? I hear it's really good; hoping to catch it this week!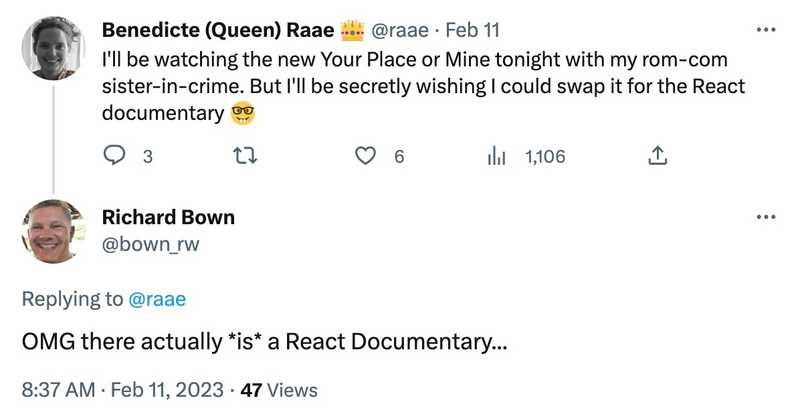 Our weekly Treasure Hunt
🔴 🏴‍☠️ TBD - Unauthorized and rum-fueled treasure hunt · #JamstackPirates
— Thursday, February 16th @ 19:00 CET
In other Empires
Better REST through GraphQL — Alex Patterson (cfe.dev) — Tuesday, February 14th @ 19:00 CET
Visual Editing w/Next.js, Contentful, and Stackbit — Tiff Janzen (LWJ)
— Thursday, February 16th @ 18:30 CET
Royal visits by Queen Raae
Fireside Chat with Benedicte Raae: Making an Impact in the Developer Community (Codesmith)
— Tuesday, February 28th @ 21:00 CET (registration is open)
Cloudinary DevJam (Cloudinary YT Channel)
— Wednesday, March 15th @ 19:00 CET (not on the schedule yet)
All the best,
Queen Raae